Inicio » Biblioteca » Farm business management: analysis of farming systems
Farm business management: analysis of farming systems
Autor/es: Peter L. Nuthall
Editorial:"CABI"
Año: 2011
ISBN-13: 978 1 84593 839 0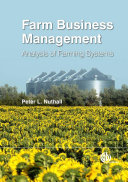 This book is about the methods available to determine optimal systems.
Some might be used by farmers themselves, but more likely by farm advisors and consultants, and by farm management researchers interested in, firstly, providing farmers with guidance on optimal systems, and, secondly, providing governments with advice on the impact of farm policy measures.
The methods are all about problem solving, as any decision situation implies choice and, therefore, requires a method for deciding which alternative maximizes the objectives.
The book is not, however, about carrying out the optimal plans.
Temas:
Más información sobre este libro